The first day of minis filled up so quickly, I added a second day!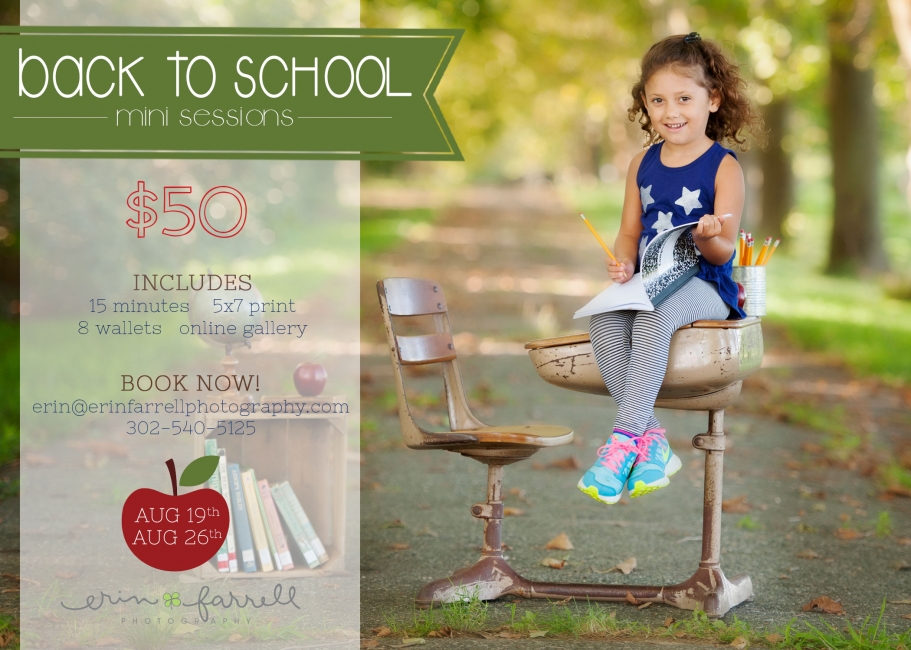 Each session will run about 10-15 minutes and result in an average of 5 final proofs in your gallery.  Your package includes one 5×7 print and a set of 8 wallets (all one image).  These sessions are for individual children ages 3 and up.  If you would like shots of siblings together, you will have to book two sessions, back to back.   Sessions will take place in the Middletown/Odessa area.
Please sign up for a time slot and I will email you and invoice and a link to the contract.  Please be sure to make your payment within 48 hours or I will have to open up your time slot for another child.  If you prefer to pay with cash/check, let me know and we can make other arrangements.
 August 19th
 http://www.signupgenius.com/go/10c0948a5ad28a6fc1-back
August 26th
http://www.signupgenius.com/go/10c0948a5ad28a6fc1-back1 
Pricing for additional prints/products:
set of 8 wallets $35
5×7 print $30
8×10 print $40
digital file $75/each or $200 for all