Here is your chance to WIN a free 11×14 gallery wrapped canvas!  You can either get an image from a previous session made into one or save it for an upcoming session.  Here is a picture of my bed with two canvases above it (one is a 16×20 of my family and the other is a 30×30 canvas I designed that has the lyrics to our first dance song).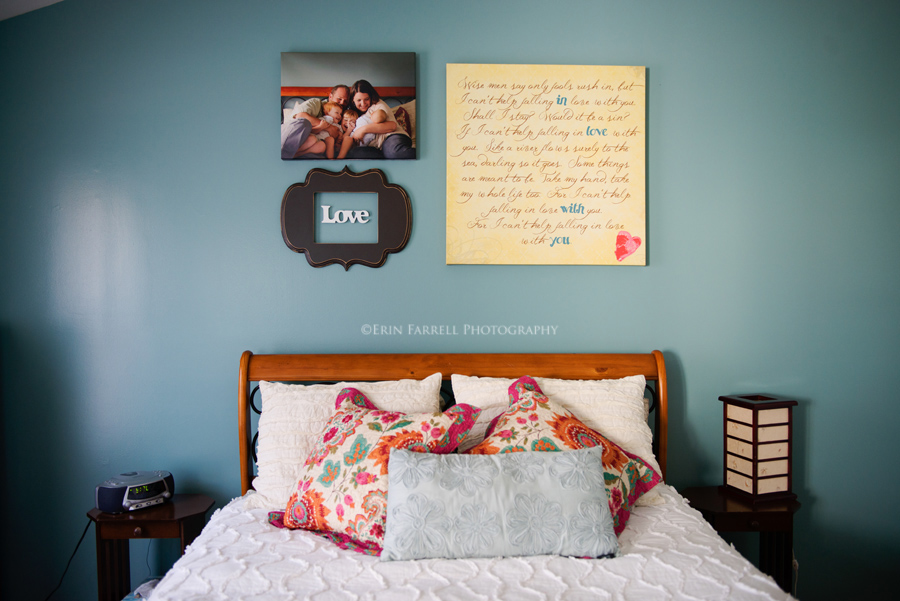 Here are the details:
I want you to go out into the great world wide web and write some reviews about your experience with Erin Farrell Photography.  That means you must either be a current or a past client of mine.  Then come back and post the link where you wrote your review.  Pretty simple, huh?
You can enter up to 5 different times.  And don't feel like you need to write a different review for each site – just copy & paste!

Leave a review for me on www.weddingwire.com
Leave a review for me on www.google.com
Leave a review for me on www.yahoo.com
Leave a review on my facebook fan page
Write a review on your own personal/business blog with a link to my website
In order for me to count your entry, you must leave a SEPARATE comment on this blog post for each review you wrote.   I will then randomly draw a number to determine the winner.  The more reviews you leave, the better your chance to win!
Contest ends Tuesday, Feb 11th at noon.
(oh, and for those of you who have previously left reviews on any of those sites — no need to write it again, just send me the link)
Happy Reviewing!