Decorating your home is HARD.  At least, it is for me.  It doesn't come easily for me and I find myself scouring pinterest and trying different things and second guessing them once I have them up.  I thought it would be awesome to have a blog circle that shows how some professional photographers display their family's photographs in their home.  I am so excited to see everyone's ideas!  If you check at the bottom of this blog post, you will see a link to the next photographer's post.
So, here is a little photographic display tour of my home.  🙂
FOYER
When you walk into the foyer, I have a desk with some images of my kids and a family photo on one side and two large (16×24) canvases on the other.  I also have three Organic Bloom frames going up the stairway. And yes, that would be a large frame in the background — that's my office and I've been waiting for just the right client image to put in it.
(family photo by Leafo Photography and the rest are mine)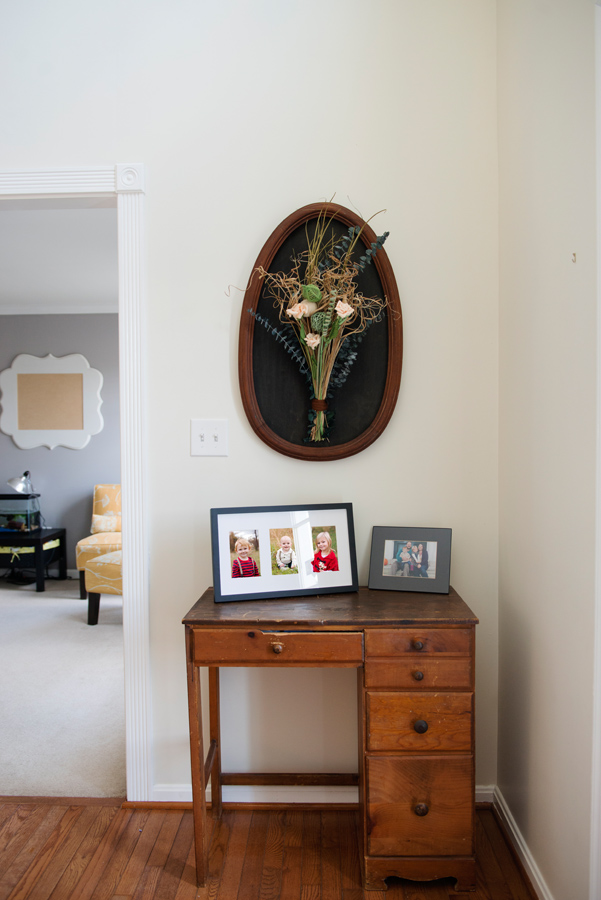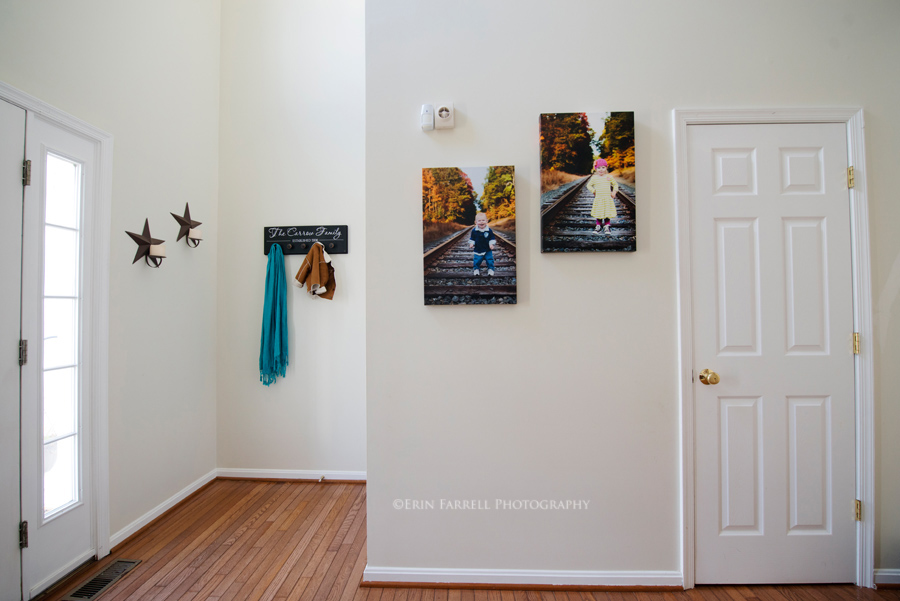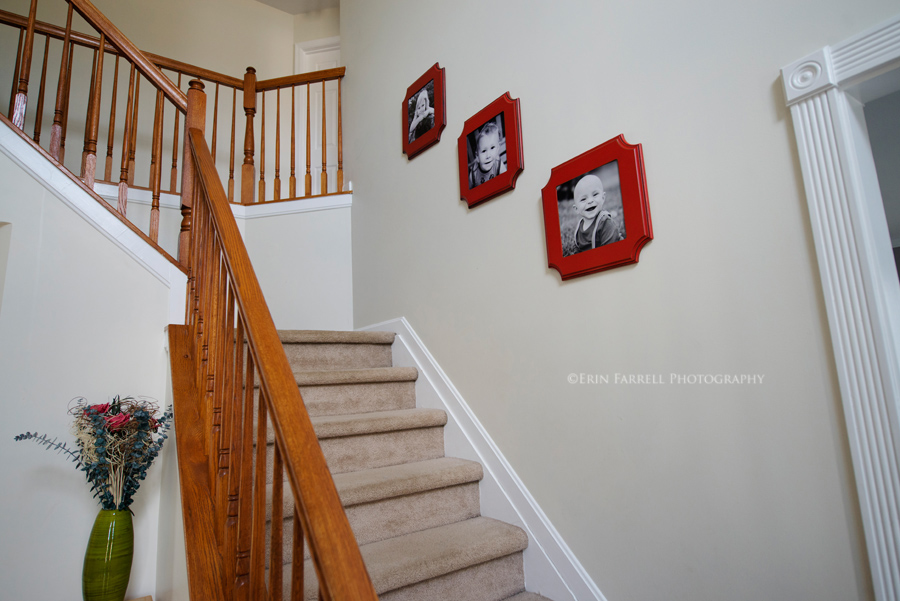 LIVING ROOM
That is a 30×40 canvas above the fireplace.  And yes, I know Valentine's Day is over.  🙂

The area around the TV is still a work in progress.  I got the shelves and frames from IKEA a while ago and they are really starting to fall apart.  Most don't have the glass anymore and the mattes are yellowing.  I keep meaning to replace the frames (and add some current photos), but I just haven't found the time.  The 11×14 canvas got stuck there on the shelf after I bought it to set on the mantle and it was just WAY too small for that area.  I love the photo but need to find a better place for it.  Sizes on the shelves range are 5x7s and 8x12s.  The square frame on the wall has a 12×12 opening.
(black and white images by me and color images by Jen Snyder)


KITCHEN
The only photos we have in the kitchen are these awesome Instagram magnets by Stickygram.  Use this code for $2 off – FRIEND7R6X

MASTER BEDROOM
I made filled a 10×10 display case with some wedding mementos, including two images from our wedding.

Above our bed is a 16×20 canvas of our family (taken by Jen Snyder) and a 30×30 canvas I made that has the lyrics to our first dance on it.

A framed 11×14 image from our wedding (Spark Photography)

MOLLY'S ROOM
In my five year old daughter's room, I wanted to do something fun.  I printed a bunch of images as 8x10s with white space on the bottom and a slight vintage processing to mimic an over-sized Polaroid picture.


It was important to me to have lots of photographs in her room that were accessible to her.  I found the big, over-sized pink clothespins at Marshall's and we put her class photos in them.  Above the dresser is a 8×12 frame from Organic Bloom with a picture of me and the two bigger kids by Misty Dawn.

In my attempt to keep her photos accessible, I took an old frame, painted it and added chicken wire.  She hangs her favorite photos and art projects here.

PLAYROOM
This is mostly artwork, but there are a few places where I have photos displayed.  I collected a ton of old frames and spray painted them.  Some I put corkboard in and some my wonderful husband fixed up with magnetic chalkboard paint.  I use the Stickygram magnets again here to hang photos and artwork.

Doesn't have to be amazing photography to grace my walls.  These were just some fun ones we got from Chuck E. Cheese.  🙂

And three ornament frames from Organic Bloom:

More Stickygram Magnets:

Be sure to head over to see how Evelyn Baldwin displays photos at her house by clicking HERE!