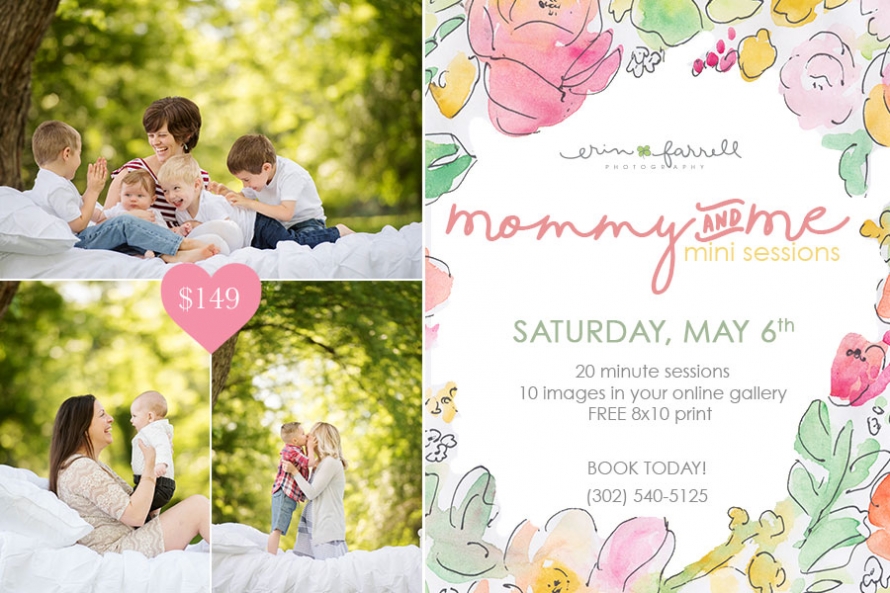 Thank you for your interest in our Mother's Day Sessions!  As a mom, I know we spend most of our time behind the camera and are rarely IN the photos with our children.   I read a blog article a few years ago that has really challenged me to stop running from the camera (you can read the whole article HERE).  Here is just a few excerpts:
"I'm everywhere in their young lives, and yet I have very few pictures of me with them. Someday I won't be here — and I don't know if that someday is tomorrow or thirty or forty or fifty years from now — but I want them to have pictures of me. I want them to see the way I looked at them, see how much I loved them. I am not perfect to look at and I am not perfect to love, but I am perfectly their mother."
Wow, right?  So let's do this for our kids!
Sessions will be Saturday, May 6th from 8:00-10:00.  They will be held at a private location in Middletown.
8:00 AVAILABLE 
8:20 BOOKED (Courtney K) 
8:40  BOOKED (Elizabeth E.)
9:00 BOOKED (Emily N.)  
9:20 BOOKED (Alyssa S.)
9:40 BOOKED (Susan D.)
10:00 BOOKED (Karen R.) 
10:20  BOOKED (Christine G.)
Each session will be approximately twenty minutes long and result in 10 final images in your gallery.  $149 gets you the mini session and one 8×10 print.  Once your gallery is posted online, you will have the option to make any additional purchases.  Prices shown below:
5×7  $30   |   8×10  $40   |   11×14  $70   |   single digital file $75   |  10 digital files  $200
To reserve your session, please fill out the registration form found at the bottom of this page  and either make your payment via paypal below or mail a check  to:  Erin Farrell Photography; PO Box 383; Clayton, DE 19938
Mommy & Me Mini Session A $149.00 
 Complete registration below or by clicking HERE.